ACS offer a full range of drilling and coring services, from shallow windowless sampling to deep rotary and cable percussion investigations. The extensive equipment held and operated by ACS and available through our trusted subcontractors includes the latest borehole drilling equipment. This enables extensive investigations to be undertaken on a wide range of sites. Services can be tailored to suit the development or investigation needs such as aiding foundation design, allowing sample collection or to provide an understanding of a site's geology.
Window / Windowless Drilling and Sampling
ACS are able to offer windowless drilling and sampling using our in-house drilling rigs. These rigs have been designed to allow quick and easy dynamic drilling in many conditions. With the small size of the rig we are able to fit through a standard doorway. This enables boreholes to be drilled on sites with limited access.
Window / windowless drilling allows boreholes to be sunk up to 10m (dependent on ground conditions). Samples are retrieved within plastic liners which allow for detailed logging and the collection of soil samples. ACS can also perform water borehole drilling within monitoring wells which can be used for both groundwater and ground gas monitoring/sampling dependent on the project needs.
In situ standard penetration tests (SPT) are routinely undertaken together with undisturbed samples in cohesive materials (U100). Dynamic probing (DPH & DPSH) can also be undertaken to provide a detailed profile of material density vs depth. These tests can provide a range of geotechnical design parameters.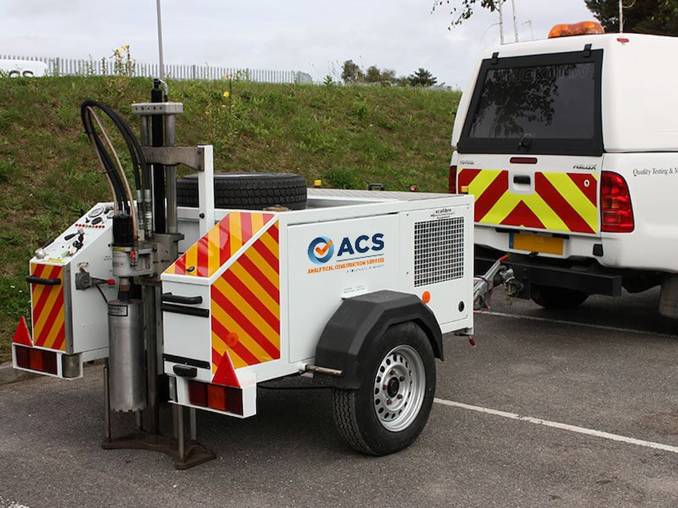 Cable Percussion Drilling
Cable Percussion Drilling allows deeper boreholes to be sunk up to 40m dependent on the geology of the site. The equipment is much larger than our windowless rigs and requires an open site with access for a 4x4 vehicle which tows the rig and carries ancillary equipment. An area of 5x5m is required to enable set up of the rig and safe working.
In situ testing comprises SPT and U100. As with window / windowless drilling it is also possible to provide monitoring installations as detailed above. This method of drilling is required when geotechnical parameters are required for piled foundation design at depths beyond those achievable by window sampling.
Rotary Drilling
In certain ground conditions cable percussion drilling is not possible. Usually this is due to the presence of rock or where obstructions such as boulders are present. In such situations rotary drilling is used which enables cores to be taken through such layers using a rotating core barrel with diamond cutting shoe.
Multi-Purpose Rotary Rigs also have a dynamic sampling head. This offers both rotary and percussive options which enable a range of ground conditions to be sampled quickly and efficiently. As with the other drilling methods detailed it is possible to undertake in situ SPT and U100 testing.
A slope crawler version of this rig is also available. This rig allows investigation of embankments and cuttings for railway, landslip and other investigations.
Sonic drilling can also be used in place of rotary. Sonic drilling utilises the same rotary method but adds a vibratory force, allowing a faster progression through denser materials.
Core Cutting
Core cutting can be undertaken from 24 to 300mm diameter using both hydraulic and electric rigs. We have hand-held or trailer rigs which are used in various situations depending upon the depth and diameter required and access restrictions.
Cores are commonly taken through concrete, bituminous materials, bricks, blocks or natural stone. Once cores are obtained, they are taken back to the ACS laboratory for analysis at specific diameters. Horizontal cores can be taken through walls or abutments.
Core cutting can also be undertaken using an attachment to our windowless rigs. This allows boreholes to be easily undertaken in areas of hardstanding, such as car parks, carriageways and internal concrete floor slabs.
Logging
Engineering logs of all exploratory holes can be prepared by our Geo-Environmental Engineers and provided in AGS format if required. We have bespoke site equipment which allows digital logging for direct transfer into logging software.
Further interpretation, analysis and advice regarding laboratory testing can also be provided through our Geo-Environmental Consultancy department
If you're looking for cost-effective drilling services, contact us on 01202 622858. Our Geo-Environmental Consultancy team will be happy to help with your project requirements.
ACS Services
Please see below for a list of the services provided by ACS:
CONTACT ONE OF THE TEAM
If you require a collection that is outside of our usual range, please feel free to call us on 01202 622858.
Or contact us and we will do our best to accommodate your requirements.